Tottenham vs Liverpool SØN, 31 AUG 2014, 13:30
Info
Tottenham vs Liverpool Spilles: SØN, 31 AUG 2014, 13:30, White Hart Lane

Husk:
* Husk at helgekamper kan flyttes fra lørdag til søndag og omvendt samt at midtukekamper kan flyttes fra tirsdag til onsdag og omvendt! Alle datoskift kan skje med kort varsel, og derfor anbefaler vi at du tar høyde for dette når du planlegger reisen.
* HUSK! Du vil ALDRI få noen enkeltseter. Du vil alltid få seter ved siden av dine venner, rett foran eller rett bak dine venner hvis du bestiller sammen. Dette er vår garanti fra oss til deg!
* Du sitter alltid blant hjemmelagets tilskuere.
* Barnebillett (Child) er gyldig tom. 15 år. Fra 16 år må alle ha voksenbillett. Kontroll av barnets alder kan forekomme ved inngangen til stadion. Barnebillett kan kjøpes til kamper med Fulham, QPR, Millwall og til utvalgte kamper med West Ham!
* NB: Barne billetter kan KUNN kjøpes sammen med voksne billetter!

Les mer her, så er du godt skodd før du gjør ferdig bestillingen din.

Nedenfor kan du lese mer om de plasser og kategorier du kan bestille til fotballkampen din.
Fra 4328 kr
Kategori
No 10 Club Lounge North Stand:
- Lower tier padded seats, North Stand
- Excellent view of the pitch
- Pre-match chef carved substantial deli-gourmet sandwich, with salads
- Served in modern well designed spacious stadium lounge
- Table seating available
- Cash bar(No free drink incl. in package)
- Half time tea/coffee included
- Match program
- Team sheet
- Spurs legend (former player) to visit lounge
- Opens 2 hours prior to kick off, open for 1 hour after final whistle
- Friendly informal atmosphere and families welcome

Lilywhite Lounge West Stand:



- Premium Executive Seats, West Stand, Long Side




- LILYWHITE Lounge Package




- Seats supplied together, always!




- Pre-match chef carved gourmet sandwich buffet with salad bar




- Served in stadium restaurant, direct access from seats




- Half time refreshments (tea/coffee)




- Former Spurs player in attendance ( photo opportunities and autographs )




- Complimentary match program on entry to lounge




- Cash bar available




- Informal seating in restaurant, relaxed atmosphere




- Families and children welcome




- No dress code ( except no opposition football shirts )




- Betting available in stadium



Standard Tickets:
- Long side or Short side tickets

Premium Executive Seats, incl. Pre-match buffet:

- Tickets are always at the North West Corner overlooking Spurs home fans in the famous North Bank.
- Includes a Pre-match buffet served 2 hours before the game in one of the stadiums restaurants.
- Matchday programme.
- Tea, coffee and refreshments.
- Cash bar available at half-time and after the game.
- No dress code(except no opposition football shirts), a relaxed atmosphere and families and children are welcome.

Box Seats Long side:

- Fantastic long side seat position, between edge of penalty box and half way line
- Seat location directly above first tier with clear view to pitch and substitutes bench
- Comfortable wide seats, weather protected as seats are behind expansive panoramic glass
- Access to VIP box holders lounge – ex-players often in attendance
- Drinks available to purchase in lounge
- Team sheets distributed to boxes
- Stadium and VIP lounge open 2.5 hours prior to kick off, until one hour after final whistle
- There is no strict dress casual, but no ripped jeans, or away football shirts – home shirts are allowed.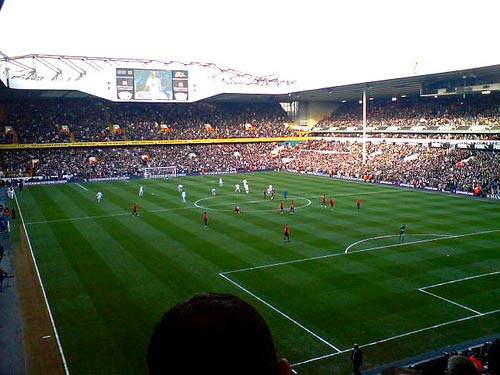 Arenainfo
White Hart Lane
Tilskuere
36.000
Adresse
748 High Road,
Tottenham,
London, N17 0AP


Se på et kart
Metro
Seven Sisters Station.
Sesongen er over. Billettsalg til neste sesong starter i juni/juli
Sesongen er over. Billettsalg til neste sesong starter i juni/juli
Sesongen er over. Billettsalg til neste sesong starter i juni/juli
Sesongen er over. Billettsalg til neste sesong starter i juni/juli
Sesongen er over. Billettsalg til neste sesong starter i juni/juli
Sesongen er over. Billettsalg til neste sesong starter i juni/juli
Sesongen er over. Billettsalg til neste sesong starter i juni/juli
Sesongen er over. Billettsalg til neste sesong starter i juni/juli
Sesongen er over. Billettsalg til neste sesong starter i juni/juli
Sesongen er over. Billettsalg til neste sesong starter i juni/juli
Sesongen er over. Billettsalg til neste sesong starter i juni/juli
Sesongen er over. Billettsalg til neste sesong starter i juni/juli