EHL Cup Final vs Chelsea vs Tottenham SØN, 15 APR 2012
Info
EHL Cup Final vs Chelsea vs Tottenham Spilles: SØN, 15 APR 2012, Wembley Arena/Stadium

Husk:
* Husk at helgekamper kan flyttes fra lørdag til søndag og omvendt samt at midtukekamper kan flyttes fra tirsdag til onsdag og omvendt! Alle datoskift kan skje med kort varsel, og derfor anbefaler vi at du tar høyde for dette når du planlegger reisen.
* HUSK! Du vil ALDRI få noen enkeltseter. Du vil alltid få seter ved siden av dine venner, rett foran eller rett bak dine venner hvis du bestiller sammen. Dette er vår garanti fra oss til deg!
* Du sitter alltid blant hjemmelagets tilskuere.
* Barnebillett (Child) er gyldig tom. 15 år. Fra 16 år må alle ha voksenbillett. Kontroll av barnets alder kan forekomme ved inngangen til stadion. Barnebillett kan kjøpes til kamper med Fulham, QPR, Millwall og til utvalgte kamper med West Ham!
* NB: Barne billetter kan KUNN kjøpes sammen med voksne billetter!

Les mer her, så er du godt skodd før du gjør ferdig bestillingen din.

Nedenfor kan du lese mer om de plasser og kategorier du kan bestille til fotballkampen din.
Fra 1715 kr
Kategori
•
Fast track Club Wembley entry to stadium, no queues
•
Premium padded seats with arm rests
•
Middle ring seating, together always!
•
Souvenir match program for football events
•
Access to Club Wembley bars and restaurants
•
Stadium opens 2.5 hours prior to event
•
No dress code ( football shirts not permitted )
•
Children and families welcome, relaxed, informal atmosphere
Hotel
HOTEL:
For matches at Wembley Stadion, we do sell Club Wembley Tickets included 2 nights(Saturday to Monday) or 3 nights(Friday to Monday) in one of the following hotels:

Royal National Hotel(**): Central London's largest hotel with 1630 rooms located near Russel Square. The rooms are basic but include all the necessary amenities. Free WiFi in the lobby. Breakfast is included in the price.

Kensington Close Hotel(****): Perfectly located near the shops of High Street Kensington. The hotel has a beautiful private garden, health club, spa and swimming pool. WiFi in all room(not free). Breakfast is included in the price.

Cumberland Hotel(****): Great hotel perfectly located near Oxford Street and Marble Arch. Cumberland is a modern and artsy hotel. Free WiFi at the hotel and in the rooms. Breakfast is included in the price.

Here you can book Twin rooms or Tripple Rooms.

Sometimes, but very seldom, we are advised that we need to change a hotel after the booking is confirmed. If this happens, we will always confirm a hotel of similar standard as the one you have booked, or better!

Your soccer tickets will be delivered to you when you check in at the hotel!

Like all booking of football tickets, you cannot change nor cancel football and hotel packages after you have confirmed and paid your booking!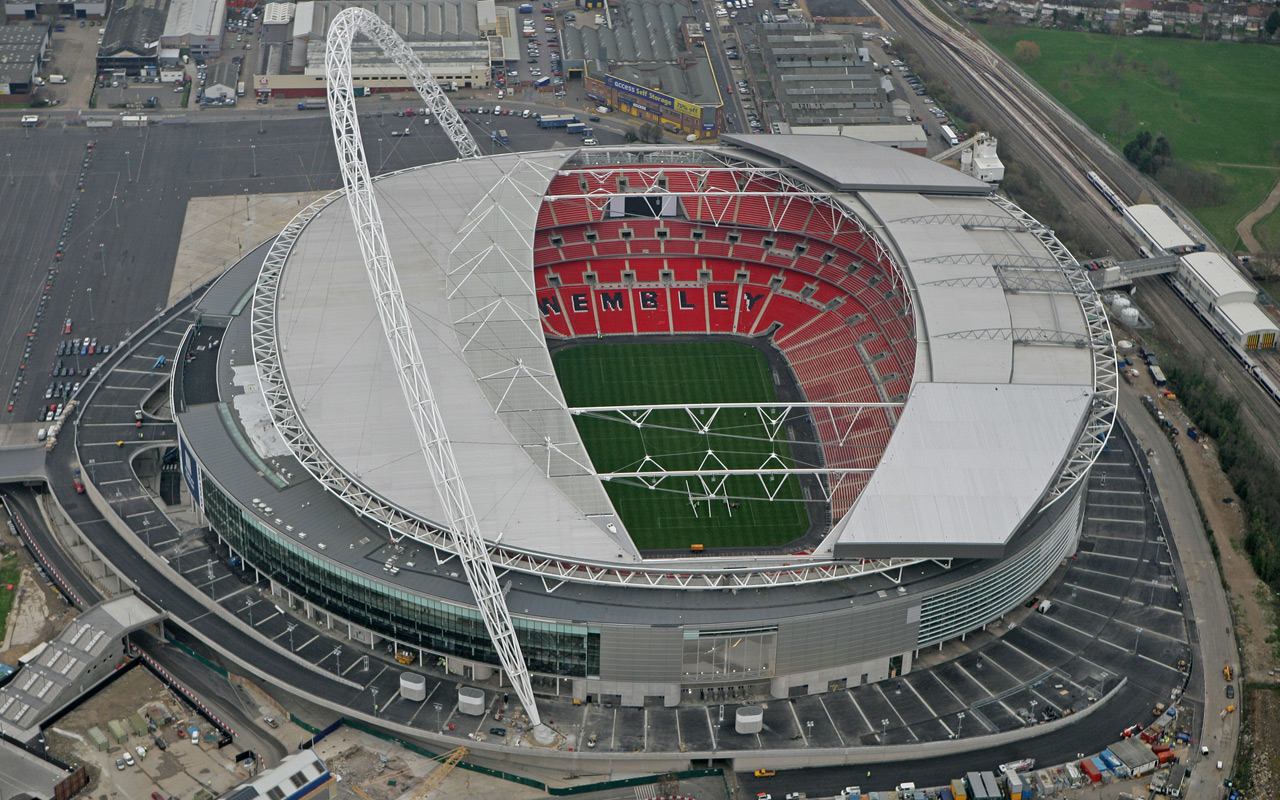 Arenainfo
Wembley Arena/Stadium
Tilskuere
90.000
Adresse
Wembley National Stadium
Wembley
London, HA9 0WS




Se på et kart
Metro
Wembley Park station (Jubilee & Metropolitan lines) or Wembley Central station (Bakerloo line)
Sesongen er over. Billettsalg til neste sesong starter i juni/juli
Sesongen er over. Billettsalg til neste sesong starter i juni/juli
Sesongen er over. Billettsalg til neste sesong starter i juni/juli
Sesongen er over. Billettsalg til neste sesong starter i juni/juli
Sesongen er over. Billettsalg til neste sesong starter i juni/juli
Sesongen er over. Billettsalg til neste sesong starter i juni/juli
Sesongen er over. Billettsalg til neste sesong starter i juni/juli
Sesongen er over. Billettsalg til neste sesong starter i juni/juli
Sesongen er over. Billettsalg til neste sesong starter i juni/juli
Sesongen er over. Billettsalg til neste sesong starter i juni/juli
Sesongen er over. Billettsalg til neste sesong starter i juni/juli
Sesongen er over. Billettsalg til neste sesong starter i juni/juli